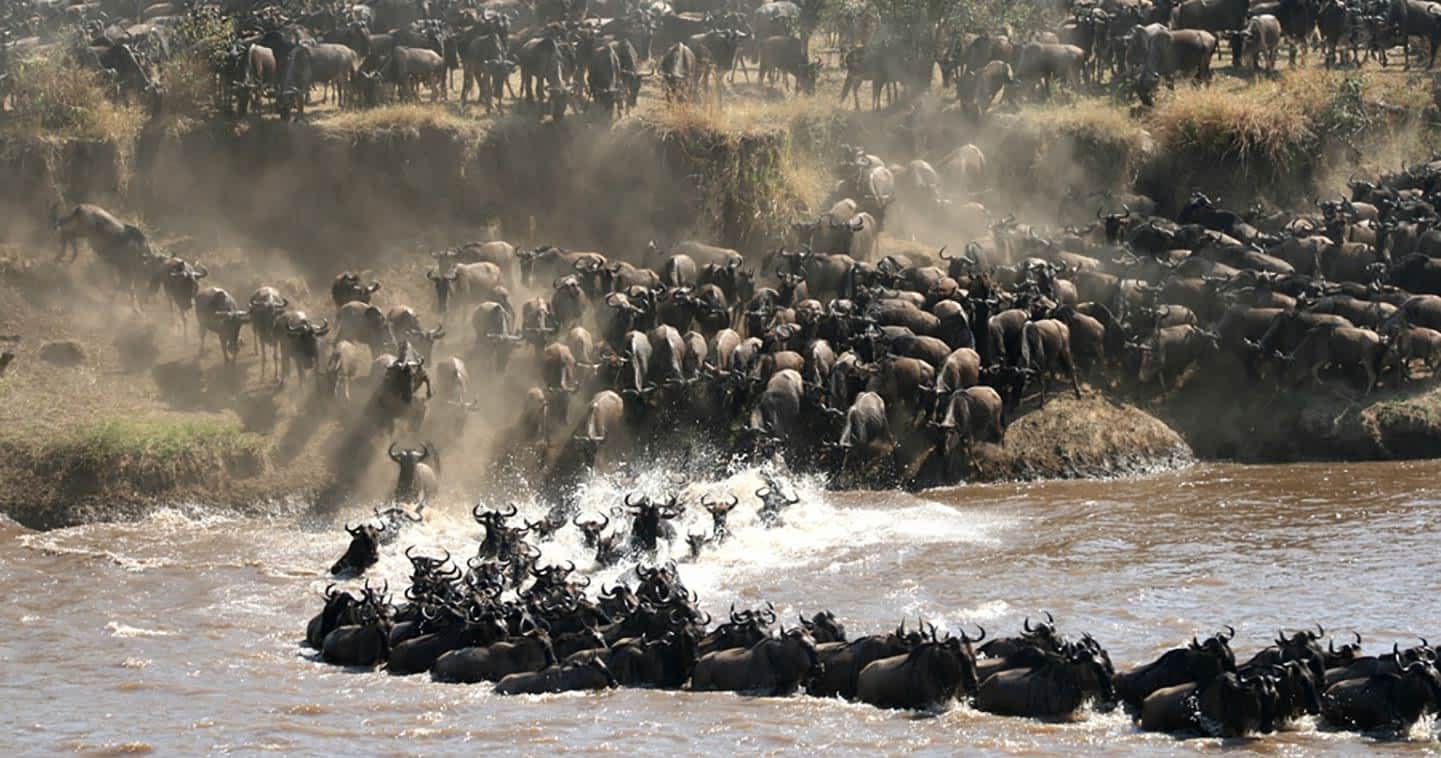 Tour Overview
Breathtaking 9 days Serengeti wildebeest migration tour to Lake Manyara, Tarangire, Serengeti & Ngorongoro crater. On this Tanzania safari you will visit the Lake Manyara, Tarangire, Ngorongoro crater and Serengeti National Park. Watching thousands of wildebeests and zebras crossing the grassland savannah is an experience to behold and surely one of Africa natural wonders. In order to increase your chances of witnessing the Great Migration, we choose your route and the order of camps according to your time of travel.
Day By Day Itinerary
Day 1: Arrive in Tanzania
Upon arrival at Kilimanjaro International airport, you will meet your Africa Natural Tours guide. This will take you to your hotel in Moshi or Arusha and the rest of the day is at leisure, you can relax and enjoy the African atmosphere. Your personal and experienced Africa Natural Tours guide not only knows a lot about the Tanzanian culture, but can also tell you a lot about the beautiful Tanzania National Parks and sights of the country. So don't be afraid to ask your Africa Natural Tours guide questions he will be happy to answer them all.
Day 2: Arusha to Lake Manyara
Your guide will pick you up from your accommodation in Moshi/Arusha at 06:00am and drive you to Lake Manyara National Park. The park encompasses the northwest bank and part of the alkaline Lake Manyara which itself rests in the Great Rift Valley. The park is perhaps best known for its flamingos, pelicans and cormorants but it is also the home for a few hundred other species of birds; it is therefore a paradise for ornithologists. Next to a great variety of birds, the "Big Game" can also be seen. With a bit of luck you might see elephants in the wooded regions and with even more fortune the tree-climbing lions. Indeed, it was thought for a long time that the Lake Manyara National Park is the only place where lions can be found with this atypical behaviour of climbing trees. Baboons and vervet monkeys are also found amongst the forested areas and in the more open spaces, giraffes nibble at the fresh leaves while the various types of antelopes common to the region browse for tasty shoots.
Day 3 – 6 Serengeti National Park
Today you continue your safari in the Serengeti national park. Its stunning landscape can be seen in some of the most impressive nature documentaries. The endless plains and abundance of wildlife are unsurpassed. The annual wildebeest migration with more than a million wildebeest is probably the highlight of the Serengeti. It is a true spectacle and impressive to watch millions of wildebeest, zebras and gazelles thunder across the endless plains of the Serengeti. Together with your private guide you will be looking for the herds across the plains. Apart from the migratory animals you will also get to see lots of other animals, like lions, cheetahs, leopards, and many more. Expect to be impressed by the natural beauty of Africa's most famous park.
Day 7: Serengeti to Ngorongoro crater
In the morning, we will have another game drive in Serengeti National Park. Come afternoon, we proceed to Ngorongoro Conservation Area Olduvai Gorge museum, a famous archaeological location in East Africa. At Laetoli, located 45 km south of Olduvai gorge, you will find hominin footprints preserved in volcanic rock that dates back 3.6 million years ago and represent some of the earliest signs of mankind in the world.
Accommodations: Public campsite/ Tented campsite/ Lodges
Meals: Water is included in all meals (Other drinks is not included)
Day 8: Ngorongoro crater
We start with an early morning game drive inside the Ngorongoro Crater. The Ngorongoro Conservation Area (NCA) is an extensive highland area along the eastern arm of the Rift Valley, with the world-renowned Ngorongoro Crater as its focal point. Ngorongoro was established to conserve wildlife and other natural resources. It also safeguards the interests of indigenous people and promotes tourism.
Day 9: Tarangire National Park
Today you depart after breakfast to Tarangire National Park for a full day game drive. Since this is one of the less known parks in Tanzania, it still has an authentic safari atmosphere. The hilly landscape, with majestic Baobab trees against the blue sky, is breathtaking. Witness the worlds largest concentration of elephants. Herds of up to 300 elephants can be seen around the Tarangire River, drinking or enjoying a mud bath. Apart from elephants, Tarangire is a paradise for bird lovers. In the area around these swamps you can also see lions, leopards, cheetahs and even tree-climbing pythons.