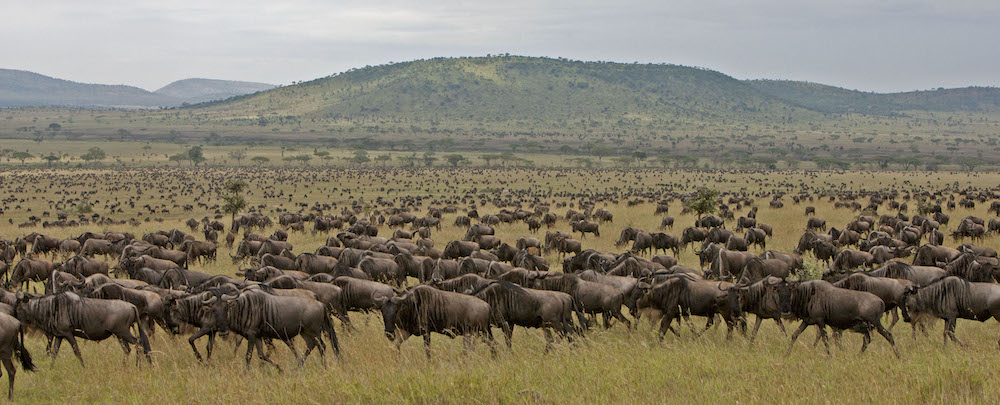 Day 1: Arusha – Tarangire
This morning you will travel to Tarangire National Park.
Tarangire is one of Tanzania's largest national parks and sanctuary for an unusually large elephant population. Majestic baobab trees are an interesting feature of the park. Animals concentrate along the Tarangire River, which provides the only permanent water supply in the area. There is a great diversity of wildlife including lion, leopard, cheetah and up to six thousand elephant.  Enjoy your afternoon game drive.
Overnight camping within Tarangire National Park

Day 2: Tarangire – Serengeti
After breakfast drive to one of the most famous game parks in Africa, the Serengeti.  Here is home to millions of wildebeest during the migration and over the huge flat plains you are likely to find lion, cheetah, leopard, hyena and many other small predators.  All afternoon will be spent on game drive before enjoying dinner and the experience of sleeping in the middle of the Serengeti.
Overnight camping in Seronera (the centre of the Serengeti)
Day 3 : Central Serengeti – Northern Serengeti
Another full day to enjoy the Serengeti, which will include making your way into northern Serengeti.  From the months of July/August, northern Serengeti should be home to the famous migration of wildebeest and zebra.  You might even be lucky to see them crossing the river into Kenya which is a spectacular site to see, if you are in the right place at the right time.
Overnight Kati Kati Mara Tented Camp (www.tanganyikawildernesscamps.com)
Day 4: Northern Serengeti –
Your final full day within Serengeti National Park and plenty of time to focus on the migration.
Overnight Kati Kati Mara Tented Camp
Day 5: Northern Serengeti – Central Serengeti
Your final full day within Serengeti National Park which includes making your way to central Serengeti. Game drives en route arrive at the camp in the evening for dinner and overnight.
Overnight camping in Seronera, Serengeti.
Day 6: Serengeti – Ngorongoro Crater
An early morning start in the Serengeti to try and find cats before they retreat away from the blazing sun during the day.  After a few hours game drive in the Serengeti drive to the Ngorongoro Crater.
Overnight camping on the rim of the Ngorongoro Crater
Day 7: Ngorongoro Crater
This morning you will descend into the Ngorongoro Crater – a wonderful haven for wildlife.  Ngorongoro is unique in that almost all the wildlife live within the crater walls hence you have the opportunity to find game easily.  Rhino, in particular, can be seen regularly as well as prides of lion and other predators like cheetah. Enjoy your full day game drive including lunch by the hippo pond.
Overnight camping on the rim of the Ngorongoro Crater
Day 8: Ngorongoro – Arusha/Moshi
This morning you will enjoy a walking safari along the rim of the Ngorongoro Crater.  Here you are likely to see small animals, birds and a range of local flora & fauna. After lunch, commence your drive back to Arusha.
Camping safari inclusions :
All game drives, vehicle, park entry fees, camping fees, English speaking driver/guide, all food, cook, drinking water, camping equipment and at least 1 pair of binoculars.
Additional costs:
* Tipping to your driver/guide and cook.  The recommended is approx USD$30-$40 per day to the driver/guide and USD$20 per day to the cook.This is divided between everyone in the vehicle.
* Small tip to the Ngorongoro walking safari ranger (USD$20 would be adequate)
Suggestions on things to bring :
* Extra Binoculars
* Camera
* Sunglasses, hat and sunscreen
* Mosquito repellent
* Warm clothes for your early morning in Ngorongoro Crater
* Cool comfortable clothes for during the days
* Torch, bathroom towel and toiletries
* Comfortable shoes for the Ngorongoro walking safari.